The insider's guide

to Copenhagen
Experience Copenhagen like a local
Originally, Copenhagen was a fishing village founded in the 10th century by the Vikings. Today this vibrant city is known for its cozy hangouts and design, becoming the epitome of Scandi-cool. It's a city filled with New Nordic design, high-quality food, beautiful bridges and a lot of cycling commuters.
We are in love with Copenhagen! This is why we have created a list of our recommendations for each neighborhood and Greater Copenhagen.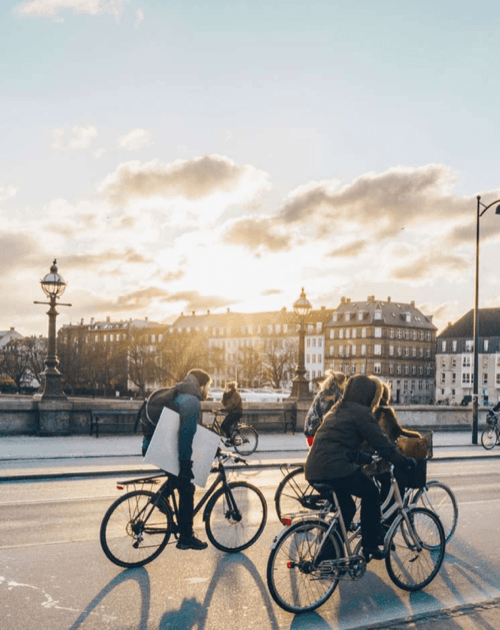 Indre By (City center)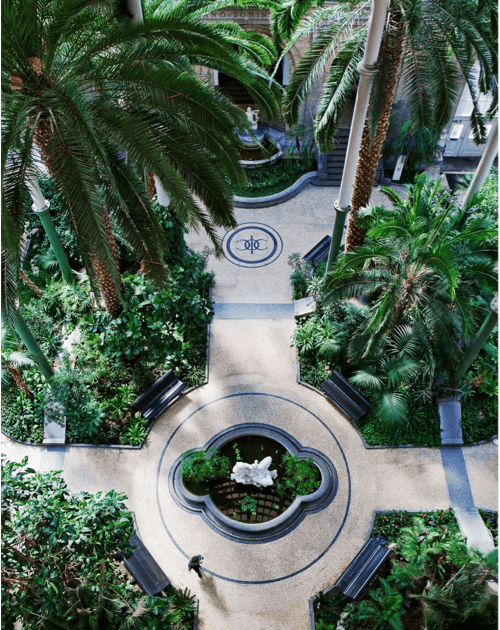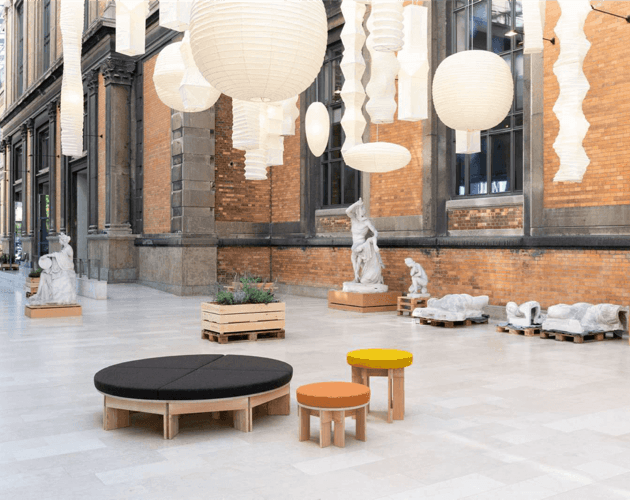 If you love museums, amusement parks, and window shopping, Indre By is the place for you. Indre by is the old part of Copenhagen and filled with amazing architecture and small local shops. Julie from Design Matters lives in this neighborhood and has prepared a few recommendations for you.
Shop in the amazing thrift-shops or designer shops around the area called Pisserenderen.
If you fancy a glass wine, you should check out Bibendum, but if you prefer beer you should pop by Mikropolis.
If your stomach is rumbling you should take the chance to taste a traditional Danish Bøfsandwich" at Guldgrillen, visit the food market Torvehallerne or try out the restaurants Høst, Uformel, Geist, Jah Izakaya or llama.
Something you shouldn't miss is the beautiful SMK (National Gallery of Denmark) or walking in Kongens Have (Kings Garden), Nyhavn, and around the pretty Lakes.
Vesterbro
This neighborhood used to be a working-class area, but now, it is one of the hippest and most fashionable places in Copenhagen. Lonely Planet has listed this area as one of the coolest neighborhoods in the world. Ingrid, who lives here, has shared her insider's top tips.
Shop danish design at the french street of Copenhagen Værnedamsvej or check out Gammel Kongevej (Old Kings Street).
If you fancy a glass of wine, you should check out Falernum, if you are thirsty for beers you should check out Rbabarrab Ølbar or Fermentoren. Get a delicious cocktail at 1656 or Lidkoeb.
If you want to get a taste of the Danish culinary culture you should try Smørrebrød – the Danish open sandwich – at Dyrehaven. But if you want to go out for dinner, Kødbyen (Meatpacking District) is the perfect place. There you'll find both gourmet and low-budget restaurants. Other restaurant favorites are Sanchez, Kiin Kiin Bao Bao, Ramen to Biiru, Bevi Bevi, Osteria 16 and Kødbyens Fiskebar.
Absalon Church is a great place to get breakfast or join a communal dinner. It used to be a church, but now it's a place for small happenings and communal dinner. You can also visit inspiring V1 Gallery, which showcases artworks of emerging and established artists and is a platform for art that interacts with the surrounding society.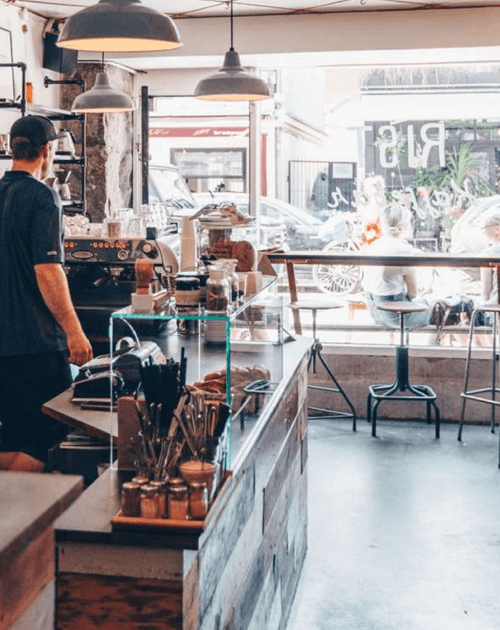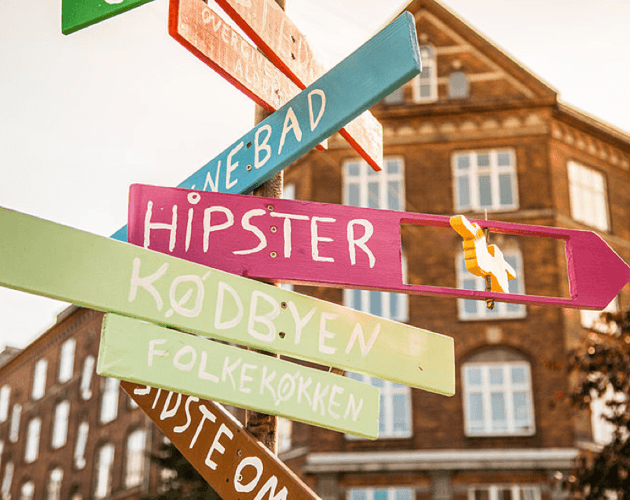 Nørrebro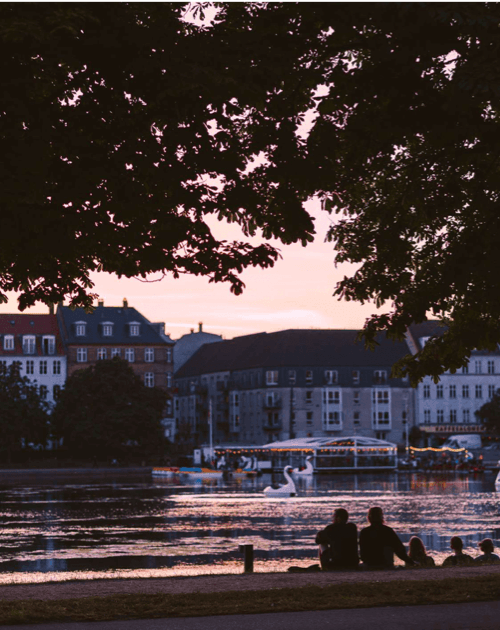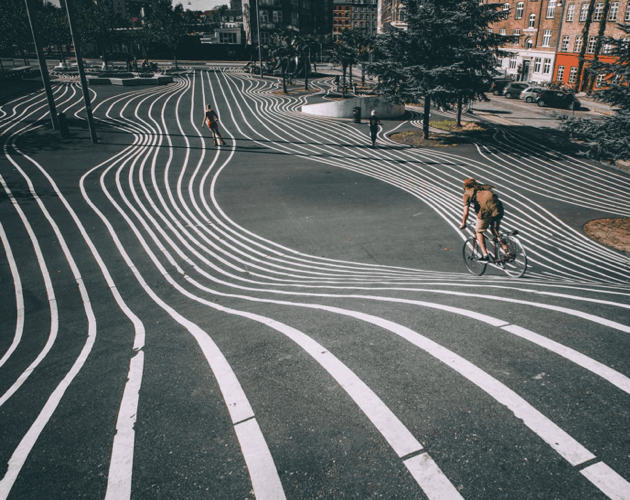 Multicultural and vibrant, this neighborhood is where young people meet. It's full of cozy cafés, flea markets, indie shops, and parks. Ditte and Giorgia, who live there, have picked a few must-sees for you.
Have a beer at Props in pretty Blågårdsgade, but if you prefer good wine but have a low budget you should visit Pompette and explore Ravnsborggade, which is packed with bars. Have mouth-watering pizza at Bæst, delicious tartare at Manfreds, and try the Danish classic 'flæskestegssandwich' at Grisen (The Pig). A hidden gem is also the tiny restaurant Kuma, that serves amazing Japanese okonomiyaki.
Shop at Elmegade and Jægersborggade to find cool indie and design shops. If you want to discover emerging artists or simply attend a small gig in an informal and relaxed atmosphere you should check out ALICE.
Christianshavn
Julius lives just across the bridge from downtown. Christianshavn is well known for its canals, the fine restaurant Noma, and Freetown Christiania. Enjoy the unique maritime atmosphere, cobbled streets, and small local cafes along the canals. Here are his tips to Christianshavn.
At Sofie Kælderen you can listen to Jazz music while sipping a beer. But if you prefer a less mainstream setting, you should visit the houseboat Kontiki. Taste delicious sustainable food at Grønsagen (the vegetable) inside Christiania, or at the old classic and elegant Kanalen.
The alternative art gallery Galleri Overgaden is one of Denmark's most important and experimental exhibition spaces for contemporary art. If architecture is among your interests you should check out the Danish Architecture Center, it will amaze you.
If you are in Copenhagen during the warm season you should rent a Kayak at Kayak Bar and explore the city from the water.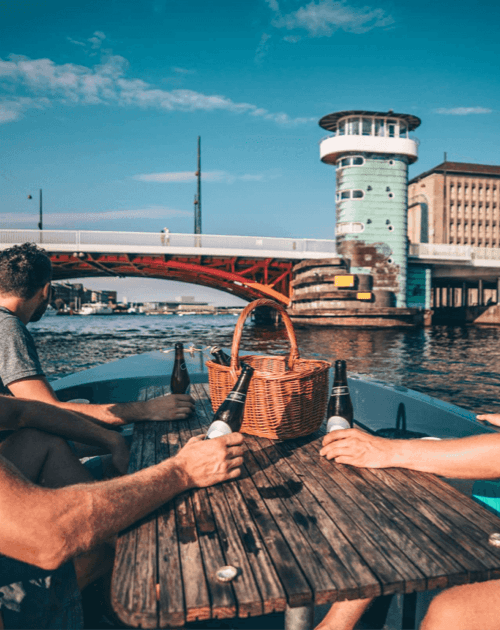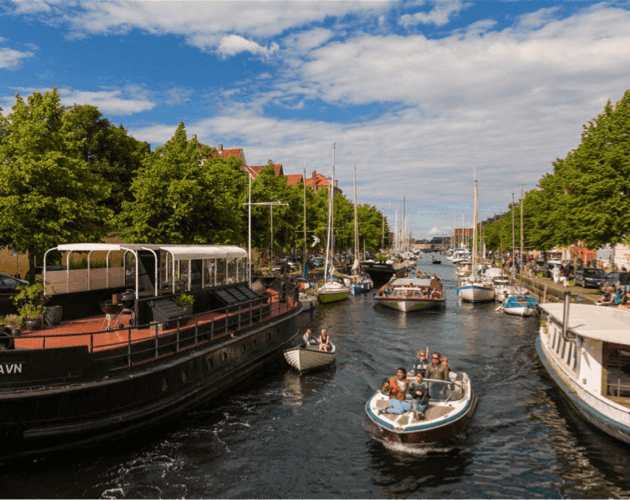 Østerbro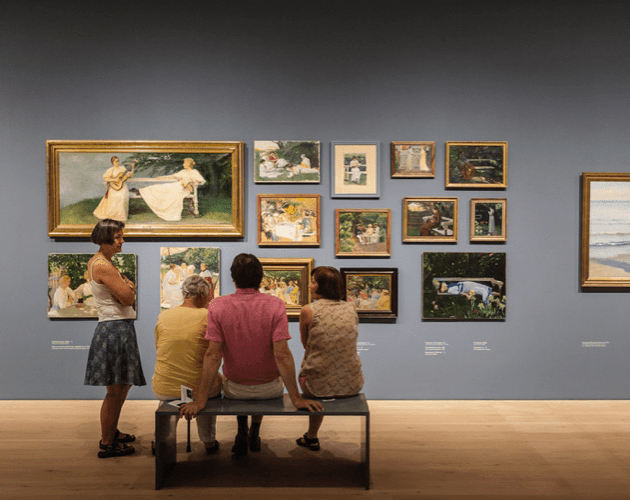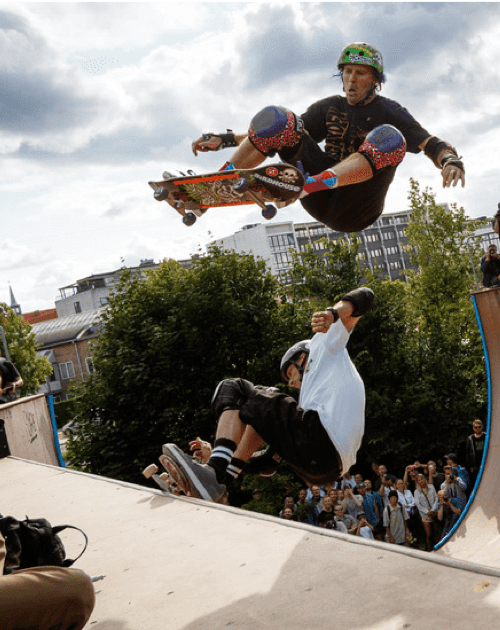 Known for being family-oriented, Østerbro hosts many trendy restaurants and interior design shops. Fælledparken is a large park with lots of play areas. Svanemølle beach is a new sandy beach with a long pier, just perfect for a summer walk.
Try Pixie if you want to enjoy a coffee in a quiet and cozy location. VeVe serves delicious vegetarian food, Olufs sells home-made ice-cream popsicles, and Juno The Bakery is considered one of the best bakeries in the whole city.
The Hirschsprung Collection is a neo-classical museum with a unique collection of Danish art from the late 19th century up until now. Den Frie Center of Contemporary Art is a contemporary art museum that is also an interesting mix of inspiration from Egyptian architecture and Greek temples.
Frederiksberg
There are some real gems sprinkled around the affluent area of Frederiksberg. It tends to be more family-oriented and relatively quiet compared with the buzzier areas in Copenhagen.
Alongside lots of clothes shops, such as Legends for men and the second-hand shops 2nd Rag and I Blame LuLu, there are some vintage and furniture design shops, such as Dora, with a wealth of items, too. The street Værnedamsvej is especially popular.
For a relatively new bakery, Hart bageri consists of a diverse mixture of international chefs, including a former Noma pastry chef. If you want to experience the Danish take on Paris, Granola has an old-fashioned, retro aesthetic, drawn on the style of French bistro. For larger groups, Ipsen & Co. is a café designed with your own living room in mind. Unfortunately, they don't take bookings.
At Meyers Deli you'll find own-brand, high quality products and a comfortable spot to enjoy food at any time of day. Fusing French and classical cooking, Les Trois Cochons is a restaurant located inside an old butcher's shop, owned by the people behind the Cofo group.
Greater Copenhagen
There is plenty to see outside Copenhagen as well. Art, history, and culture are found all around the capital city. Michael, who lives just outside Copenhagen, has made a list of suggestions in case you want to go on a small adventure outside the city.
Taste gourmet food with an ocean view at Restaurant Sletten, and visit visit the unique Louisiana – Museum of Modern Art located by the sea. Arken, the Contemporary Art Museum, is located South of Copenhagen, whereas the Maritime Museum of Denmark, that was designed by BIG, is located in Elsinore, in the North. Finally, if you want to go an adventure and find breathtaking nature, you should visit Stevns Klint and Møns Klint, the first Danish UNESCO biosphere reserve.